Using Bitters and Bitter Foods to Stem Sugar Cravings We often hear the question "why do I crave sugar?"  (It's usually me asking myself that question.) Most of us know the overwhelming feeling that accompanies the sudden craving for something sweet. These episodes usually call for chocolate, cake, ice cream, or candy. Before we even…
Digestive bitters and bitter herbs have played an active role in helping to balance appetite since antiquity. But, what does the balance of appetite really mean? And, if bitter herbs also serve to stimulate appetite, why have monks and nuns relied on bitters to support their fasting regimen? The internet is full of lists showing…
The benefits of bitter tasting foods have been recognized since antiquity.  The origin of herbal bitters can be traced back to ancient Egyptians.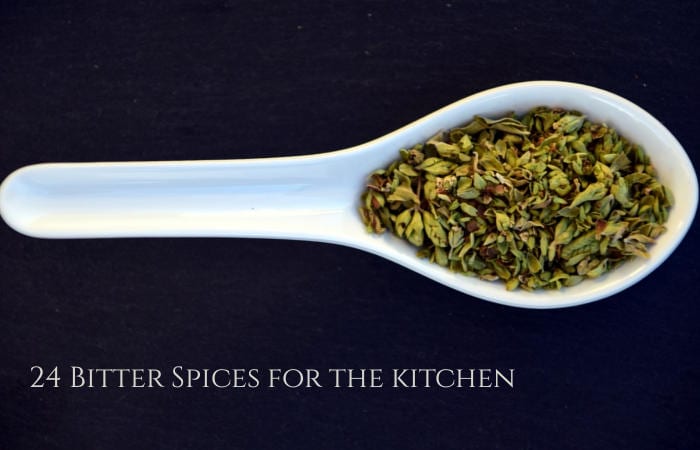 1. Chervil The fine sweet taste of chervil gives soups, sauces, and salads a favorable aroma that we often associate with springtime. Served fresh, this kitchen herb is full of vitamins, stimulates circulation, and has a detoxifying effect. 2. Ginger Ginger and galangal are classic Hildegard herbs that simultaneously serve as kitchen spices and effective…
These healing plants contain bitter substances that are an important part of their overall healing composition. Bitter substances work to stimulate the liver's metabolic function to restore your body's powerful detoxifying organ.
Our post on the benefits of bitter flavors introduced the taste category of bitter and the many reasons why bitterness is an important part of our diet and how bitters can help to control appetite. We have also covered some herbs and foods that contain the various bitter flavors that we can incorporate into our diet and…
Foods with bitter flavors have played an important role in nutritional medicine and naturopathy for centuries. Saint Hildegard of Bingen regularly employed bitter tasting foods and bitters.
Chocolate possesses many beneficial qualities. The health benefits of its ingredients are difficult to isolate and quantify, but this article offers a good primer, starting with cacao, the principal ingredient.
Every autumn, a meadow near the city center of Munich transforms into the world's largest beer and folk festival or Volksfest. Known as Oktoberfest, the 16-day celebration is referred to by many locals as Wiesn, short for Theresienwiese, or Theresa's Meadow, named for the place where King Ludwig I wed Princess Therese in 1820. This is…
The trend toward avoiding bitter tasting foods in favor of mild, savory and sweet flavors has wider implications.  Many of us suffer from digestive weakness, heartburn, bloating, and metabolic conditions.