Many biographies of Hildegard of Bingen read like lists of accomplishments, focusing on her many contributions to humanity and spirituality. Similarly, we have assembled a list of 20 remarkable things you may not know about Hildegard von Bingen.  Given her far-reaching impact and long-lasting legacy, we face a challenge in writing succinctly about a person widely researched with differing interpretations.
Beginning in early childhood Hildegard of Bingen experienced visions she couldn't adequately explain to others. Her visions didn't come through her eyes and ears. They were experiences of sight and sound seen through her inner senses. As a result, they were visions she kept to herself for many years.
The Early Life of Hildegard of Bingen
Hildegard of Bingen was born in 1098. She was the tenth daughter of a noble family.
When Hildegard was young her parents pledged her and her dowry to the Church. The offering was an act of symbolic marriage, and it was most likely done without consulting Hildegard or gaining her consent.
Hildegard was dedicated to religious life at the Benedictine Abbey at Disibodenberg. She took her vows on All Saint's Day in 1112.
Jutta von Sponheim
At the abbey, Hildegard came under the care of her distant cousin, Jutta von Sponheim. Jutta was only six years older than Hildegard, but she played an important role in Hildegard's life. She served as teacher and confidant. She also created an environment for Hildegard to cultivate her relationship with God.
Living at the abbey taught Hildegard the rigorous Benedictine tradition and developed her intellect and skills in reading, writing, Latin, and religious verse. When Jutta died in 1136, the nuns elected Hildegard as headmistress of the convent.
Jutta was the first person with whom Hildegard shared her visions. Jutta, in turn, shared Hildegard's visions with Volmar, the prior of the abbey.
Volmar was the first person to validate Hildegard's visions, and for more than 60 years he played an influential role in Hildegard's life.
Hildegard of Bingen: Visions and Midlife Awakening
Hildegard says she was three-years old when she first saw a vision of "The Shade of the Living Light." And she was five-years old when she grasped that others wouldn't understand what she was experiencing.  Even at this age, Hildegard knew that her visions were a gift from God.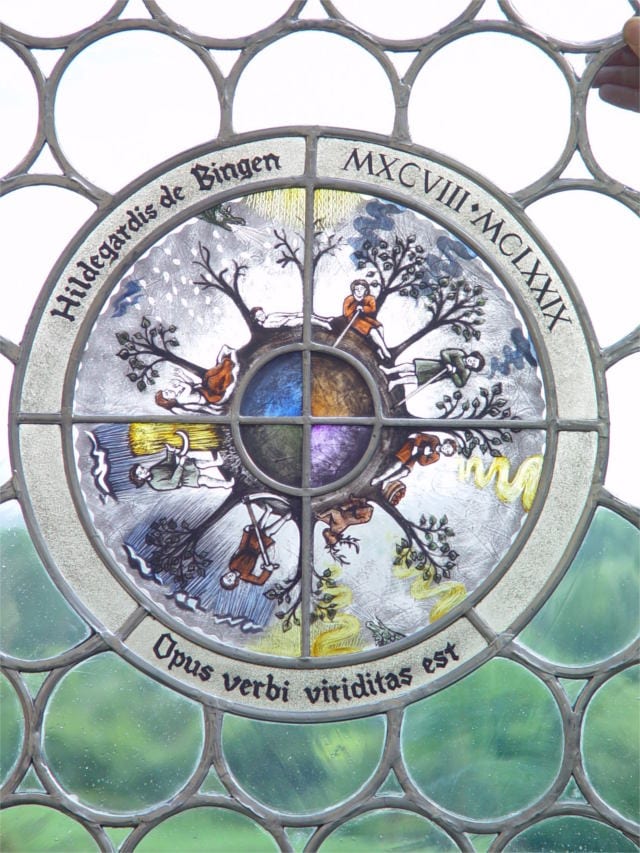 At the age of 42, Hildegard experienced a midlife awakening. She received a vision, wherein she believed God had instructed her to write down what she saw. Hildegard was hesitant to do so, at first. She spoke of this milestone experience in her first work, Scivias.
Documenting Hildegard's Visions
Her hesitancy wasn't from stubbornness. Doubt had stopped her. As did the fear of "bad opinion and the diversity of human words." She only started writing of her visions after she fell ill. She was "laid low by the scourge of God."
As Hildegard wrote down what she saw, portions of what she completed were read aloud to Pope Eugene III.  The Pope responded with a letter of blessing. This papal approval of her visions happened during the Synod of Trier (1147 and 1148).
Abbess Hildegard of Bingen at Disibodenberg
As headmistress of the nuns at Disibodenberg, Hildegard began the process of separating her convent from the monastery. Two reasons for separation include (i) increasing space constraints; and (ii) a growing sense of independence among the nuns. Perhaps Hildegard's most pressing reason for a split came from her increasing emphasis on balance in all aspects of life. This created conflict with the sometimes rigid provisions of the Benedictine order.
Fearing the loss of revenue from dowries accompanying new entrants to the convent, and in order to retain the dowries already contributed, Hildegard and her fellow nuns faced fierce objection from the monks. Eventually, the Archbishop of Mainz forced the Abbott at Disibodenberg to consent.
Abbess Hildegard of Bingen at Rupertsberg
Hildegard and about twenty nuns moved from Disibodenberg to Rupertsberg, near the town of Bingen. The consecration of the new church and cloister occurred in 1152.
After six years of difficult negotiations, the Abbess Hildegard of Bingen returned to her former monastery a portion of the assets first contributed by the women of the convent.
Abbess Hildegard of Bingen at Eibingen
In 1165 Hildegard founded a second abbey at Eibingen. Hildegard arranged for 30 nuns to occupy two vacant monasteries.
The Works of Hildegard of Bingen
Among Hildegard of Bingen writings, her first work "Liber Scivias Domini" (Know the Ways) was the result of a ten-year effort (1141 to 1151). Scivias was produced with Hildegard's lifelong friend and "co-worker of God", Volmar, and presents a total of 26 visions. Through them Hildegard tells the complete story of God and man.
Scivias "Know the Ways"
In Scivias, Hildegard portrays a magnificent history of salvation, from creation through the order of redemption and the development of the Church, to perfection at the end of times. It ends with the Symphony of Heaven, an early version of Hildegard's musical compositions.
Scivias is both prophetic and admonishing in the manner of Ezekiel and the Book of Revelation. It also famously describes the structure of the universe as an egg.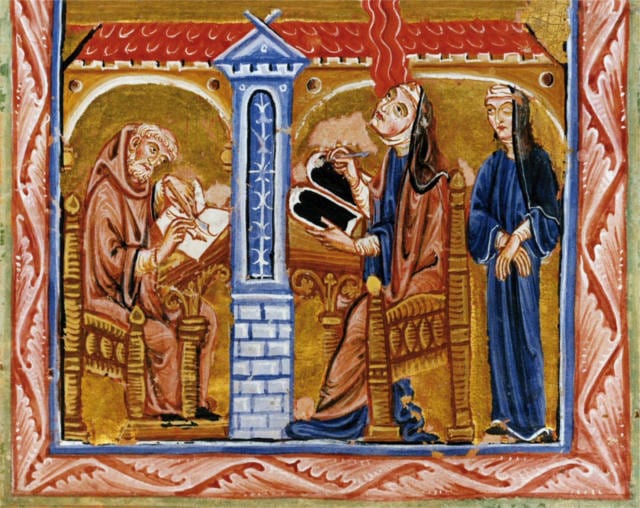 Ordo Virtutum
"Ordo Virtutum" (Order of the Virtues), which Hildegard of Bingen wrote during the relocation of her abbey at Rupertsberg, represents the eternal struggle between good and evil in 35 dramatic dialogues and 69 musical compositions. Each composition has its own original poetic text. And the dialogues illustrate man's subconscious virtues.
For Hildegard of Bingen, music was a special gift from God to support the salvation of man. And Ordo Virtutum emphasizes the importance of music in communicating spiritual subtext.
The Book of Life's Merits
Between 1158 and 1163, Hildegard worked on and completed her second principal work: "Liber vitae meritorum" (Book of Life's Merits). In some ways the book was a continuation of Ordo Virtutum as it depicts the eternal struggle between good and evil, virtue and vice
The Book of Life's Merits is an innovative work. It contains one of the earliest descriptions of Purgatory as the stop before Heaven where a soul works off its debts.
Physica and Causae et Curae
Around the same time, Hildegard started work on her practical guides to nature and healing. The work was originally called the Book of the Subtleties of the Diverse Nature of Creatures.
One section of the work focused on descriptions of medicine and natural remedies, while the other emphasized the causes of disease along with various treatment methods. In the 13th century, this work split in two component parts.
The two volumes became known as Physica and Causae et Curae.  They are perhaps Hildegard's most famous texts, and almost certainly the first of their kind written by a woman in Europe.
Book of Divine Works
Hildegard's last great work was "Liber divinorum operum" (Book of Divine Works), written from 1163 to 1170. The 10 visions in the work address the birth and existence of the cosmos and consider nature in the light of faith. She paints the world as God's masterpiece artwork and discusses her belief that man represents and reflects everything in the cosmos. All of man's physical and mental conditions exist likewise throughout the universe.
This perspective of interconnectivity resembles the many similar experiences by those who have experienced a kundalini awakening process. Everything is connected and inseparable in God.
Hildegard Spirituality
For Hildegard, man stands at the center of the universe. Man is the complete work of the Creator.  Only man can know his Creator. If he rises, creation lifts with him. If he falls, he carries all of creation with him.
Hildegard believed that every creature is connected to every other, and each is held together by another. Hildegard's belief that we may find God's "loving embrace in every creature" elevates creation above nature.
When man moves beyond self-centeredness, he stops rebelling against God and has communion with all other creatures. A "primordial joy" emerges in man from connection with nature.
Hildegard of Bingen Medicine
Man's quest to become closer to God develops by striking the balance of discovery and action, Both are of equal importance. This concept of unity and balance runs through all of Hildegard's works, practices and healing techniques. For example, she considered disease a deficit or imbalance, while good health derives from the balance of spirit mind body.
In her primary medical texts, Causae et Curae and Physica, Hildegard expressed her belief that faith contributes to good health and healing.  With faith comes the discipline required for good work and moderation.
During the last decade of her life, Hildegard completed two more medical texts, "Liber simplicis medicinae" and "Liber compositae medicinae".  The books catalogued over 280 plants, cross-referenced with their healing uses.
The Fame of Hildegard von Bingen
During her lifetime, Hildegard's writings and work struck a chord among men and women of all social classes. People from all over Europe came to her abbey for advice and care. They sought advice for health and good-living.
In the 1160s, Hildegard held court with Emperor Friedrich Barbarossa at his palace. In addition to Barbarossa, she also held on-going correspondence with four Popes (Eugene III, Anastasius IV, Hadrian IV and Alexander III),  Bernard of Clairvaux, and many other influential leaders and thinkers of her time.
Hildegard von Bingen was a prolific communicator. More than three hundred of her letters survive today. She died on September 17 in 1179, at her abbey.

Saint Hildegard of Bingen
During her lifetime, Hildegard was revered as a saint. In 1228 the Church initiated a formal canonization process, which ended without result. The process was revisited in the 16th century.
In 1979, a community of several Catholic women's associations reapplied for Hildegard's recognition as a saint and a Doctor of the Church (i.e., a teaching theologian). Hildegard of Bingen was finally recognized as a saint and a Doctor of the Church in 2012.
Today, Saint Hildegard stands for holistic teaching, finding harmony within the spirit, mind, body the interconnectivity among all of man and all of nature, and the cosmic presence of our universe in each individual. Hildegard's philosophy of self-realization and individual identity appeals to a modern collective unconscious.
Hildegard von Bingen's Modern Impact
In America, Hildegard is generally known for her music.  In Germany, Saint Hildegard von Bingen is most closely associated with natural health and wellness. Hildegard is a fixture for nature and health.  She stands out in today's profit-oriented world, driven by technology and artificial influence.
During a time when women were prevented from participation in public discourse, Hildegard pressed for social issues and promoted spiritual progress among world leaders.
Swedish forces destroyed Hildegard's monastery at Rupertsberg, during the Thirty Years War, forcing nuns of the convent to seek refuge at the monastery in Eibingen. The monastery at Eibingen was secularized in 1803, and the abbey ultimately became a parish church. Today, the church at Eibingen stores Hildegard's relics in a shrine.
Hildegard of Bingen remains Germany's greatest mystic and God's companion. She was artist and scientist, mystic and doctor, poet and political critic.  She was influential in theology, nature, medicine cosmology, the human condition and the world at-large. In a world dominated by men, and despite all of her apparent strengths,  Hildegard expressed her delicate and fragile nature.