German Holistic Health and Wellness
When our diet falls out of balance, we often crave the very things that harm us the most. Ancient herbal bitters help re-establish balance.
Use Hildegard's Original Bitters Tablets to supplement the lost bitter flavor profile -- abandoned in most western diets.
This blend of bitter herbs, inspired by Hildegard of Bingen, helps balance the palate, while contributing to digestive health.  Bitters awaken bitter receptors throughout the body, including the gastrointestinal tract, and even throughout our skin.
For centuries monks and nuns throughout western Europe have used bitter herbs and roots, such as those found in Hildegard's Original Bitters Tablets to manage cravings during spiritual fasting periods and intermittent fasting.  Ancient Romans used a similar combination of herbs as pre-meal digestives to stimulate digestion and manage appetite control.
Reintroducing bitters to a western diet serves to re-acquaint the palate with an under-represented flavor, ultimately loosening the grip of longstanding vices, such as our ubiquitous craving for sugar.  Add bitters tablets to tea, as a healthy alternative to coffee, to help break the addiction to caffeine.
Appreciation for bitter flavors corresponds with digestive health and balanced appetite.
The old German adage implores: "the less you like bitters, the more you need them!"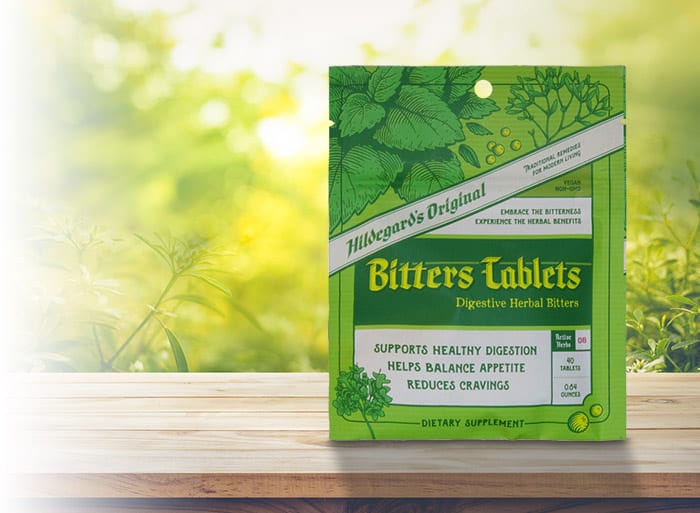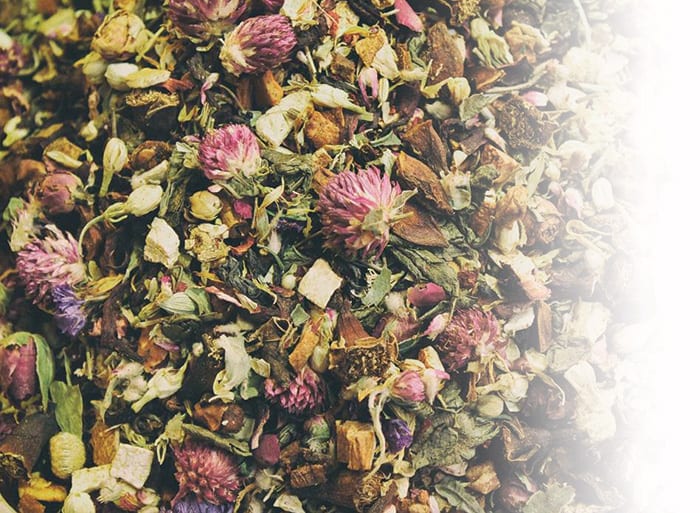 Why Use Bitters?
We westerners generally don't like the taste of bitterness.  There's an old German adage that goes: "the less you like bitter, the more you need bitters for your health."  So, bitters are an acquired taste.  And, in the absence of bitter flavors in our diet, we often reach for a less healthy alternative – namely, sweet flavors.
Hildegard would encourage us to seek balance among all tastes and flavors, recognizing that when our diet falls out of balance, we often crave the very thing that harms us the most, propelling us further out of balance!
Bitters for health can greatly improve our overall well being in the following ways:
About Hildegard of Bingen
Hildegard of Bingen remains Germany's greatest mystic and companion to god. She was an artist, scientist, mystic, doctor, poet and political critic that has influenced many in both the past and the present.
Her divine light is a beacon of clarity as we construct and structure our lives around her teachings and share this experience through our own creations. Guided by her illustrious vision, enlightened sense, and holistic approach to living, we can each seek to awaken the visionary, the mystic, the teacher, and the healer in ourselves. We invite you to strive for enlightenment and health with us!
A Holistic Approach
Our purpose is simple: we intend to guide you through a holistic approach to ancient wisdom, long forgotten ways of living, and modern practical applications to enrich the quality of your daily life.
We created Healthy Hildegard to foster a holistic approach to our growth. We seek out ways – ancient and modern – to build strength, maintain balance, and kindle contentment of body and spirit.
Whether you are deeply committed to living the ways championed by Hildegard of Bingen, passionate about nutrition, natural healing, or wellness. Or, if you're just starting to explore a holistic approach to improve your life, Healthy Hildegard is for you.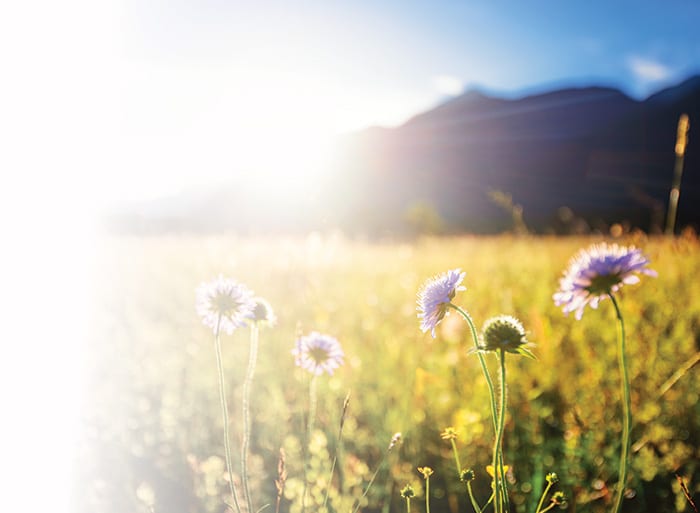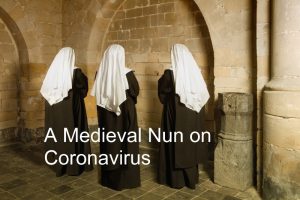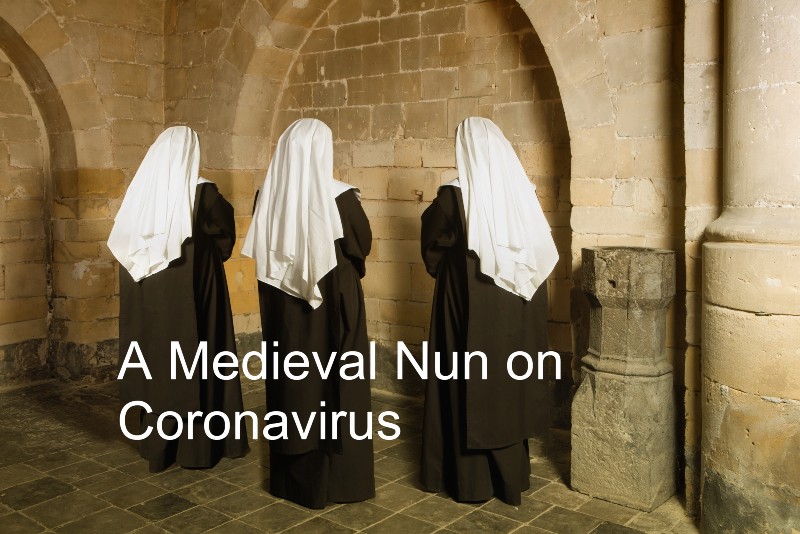 What to Learn from a Medieval Nun on Coronavirus? As fans of Hildegard von Bingen, we harken back to Medieval times for a frame of reference during the corona crisis. Quarantine feels arcane, partly because modern medical advancements elevate us beyond the widespread fear of sickness. We rely on stable systems to provide cures for…
Discover centuries-old techniques for fasting without starving. A free 85-page fasting eBook, for Fasting in the Age of Abundance. 
Renew Energy, Control Weight, And Improve Metabolism.
All the information you need for a successful fast, including:
Preparing for your personal fasting experience;
25+ fasting recipes & DIY home remedies;
Orientation for the times during and after the fast;
Tips to overcome fasting challenges and crises.