Pepper is a familiar herb to most people. After all, most of us use this spice daily in the kitchen. However, a variety of pepper, cubeb pepper (Piper cubeba) remains largely unknown in the US and western Europe. Black pepper appears much more commonly in our diet.
Arab doctors first recognized the healing effects of cubeb pepper in the 9th century and brought these small round pepper berries to Europe. Much later, in the Middle Ages, Saint Hildegard of Bingen recognized the positive effects cubeb pepper on human health as a part of her klosterheilkunde.
Background on the Cubeb Pepper Plant
Cubeb pepper (Piper cubeba) or Java pepper belongs to the pepper family (Piperaceae). This climbing plant grows up to ten meters, with dark green, leathery leaves, as much as 15 cm in length.
The cubeb pepper plant possesses inconspicuous white flowers. The female flowers later develop into round, soft berries with a fruit diameter of five mm. They have a slightly wrinkled surface and a stem about one cm long.
These small peppers possess the distinguishing feature of a small tail or stem.
Cubeb Pepper Origins
The spice used today in North African and Indonesian cuisine originally hails from Indonesia. Modern cubeb pepper grows commonly in Malaysia, Sri Lanka, the Lesser Antilles, and India. Cubeb pepper thrives in warm climates with humus-rich, humid soils.
Which parts of Cubeb pepper are used?
The fruits are harvested when they are not quite ripe. When dried in the sun, they turn blackish-brown and acquire the typical raisin-like, wrinkly surface.
Cubeb Pepper as a Traditional Medicinal Plant
Cubeb pepper draws on a long history as a medicinal plant. Like many herbal remedies, used for centuries in monastic medicine, experience traces over millennia, with centuries of careful records preserved by monks and nuns. Much of Hildegard of Bingen's writings on healing result from vast experience, assembled over centuries to create the body of medieval medical treatments.
Separately, in Traditional Chinese Medicine Cubeb pepper associates, along with other spices, as a part of an aphrodisiac, later considered an "Oriental Happiness Pills".
Hildegard and Cubeb Pepper
Cubeb pepper was first introduced by Arab doctors to monastic medicine in Europe. Later it was adopted by Hildegard of Bingen in the Middle Ages. It is assumed that Hildegard encountered cubeb pepper at the Rupertsberg monastery. The abbess and healer, used the relatively unknown variation of pepper to support a cheerful spirit, a perceptive mind, and clear the mind for knowledge.
A closer look at the appearance of cubeb peppers supports a strong relationship with the mind, based on the doctrine of signatures.
What Hildegard said (of cubeb pepper)…
"The Cubeb is warm, and that warmth has the right mixture in it, and it is also dry. And when someone eats cubeb, the unseemly desire that is in him is tempered. But it also makes his mind happy and makes his mind and his knowledge pure, because the useful and inordinate warmth of the cubeb extinguishes the unseemly glut of desire in which stinking and muddy liquids are hidden. Cubeb makes the spirit of man and his mind brightly clear".
In medieval Europe, Paracelsus (1493 – 1541), another proponent of the doctrine of signatures, thought of cubeb pepper as a "warming spice" and attributed to it a life-prolonging effect.
We often find similarities between Hildegard's remedies and Eastern healing traditions. Specifically, cubeb pepper has always played a central role in traditional Indian medicine (Ayurveda). Ayurveda values cubeb pepper as a spice, cosmetic, and medicine. In India, many families produce their remedies according to their own recipes, which are passed down from generation to generation.
Health Benefits of Cubeb Pepper and Fields of Use
Cubeb pepper is mainly known to address minor symptoms of inflammation, particularly of the urinary tract.
Cubeb pepper in folk medicine
Treating mild inflammation represents the primary application for Cubeb pepper in folk and monastic medicine.
Dried cubeb berries contain an essential oil consisting of monoterpenes and sesquiterpenes. The terpenes contained in the berries of the plant have anti-inflammatory and anti-bacterial properties.
Cubeb relieves headaches and dizziness, serves as an aphrodisiac and promotes concentration. Mortared cubeb pepper powder has a stimulating effect when smoked.
For inflammatory diseases of the urinary tract
Due to its anti-inflammatory effect, Cubeb pepper was traditionally used for infections of the urogenital tract (kidney inflammations, bladder catarrh, ureter infections, prostate and uterine inflammations).
In gastritis and digestion
Cubeb peppers are also used to treat gastritis or to strengthen the gastrointestinal tract. Cubeb pepper promotes digestive activity by stimulating salivation and the production of gastric juices. Cubeb is especially potent after eating high-fat and hard to digest meals.
Used as a homeopathic remedy, it helps patients with severe flatulence and upset digestion.
For respiratory conditions and chronic bronchitis
Indian folk medicine (Ayurveda) recognizes the mucus-dissolving properties of this age-old medicinal plant. Cubeb pepper remains in active use in Ayurveda today as a cough-suppressant for mild bronchitis, nagging cough, and generally to address respiratory symptoms.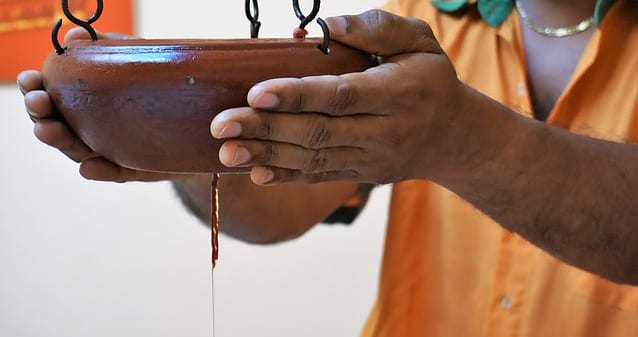 Moderate stress and anxiety
Chewing some whole grains reduces stress and anxiety, promotes attention, relieves headaches and dizziness (in Germany these berries are also known as dizzy seeds), and generally improves physical and mental performance.
They are also used in folk medicine for memory problems, sadness and depression.
Cubeb Pepper – An overview of the health benefits:
Alleviates mild inflammation of the urinary tract.
Improves mild respiratory conditions, such as mild chronic bronchitis.
Strengthens the gastrointestinal tract.
Promotes concentration and improves mild circulatory problems resulting in headaches.
Mortared cubeb has stimulating properties when smoked.
The resin contained in the cubeb berries has an astringent effect and slows bleeding by narrowing blood vessels.
Dosage of Cubeb Pepper
In Hildegard of Bingen medicine, cubeb pepper appears most commonly in the form of tablets (pellets from the fruit powder) or whole cubeb fruits. Naturopathy and holistic healing techniques value the cubeb berries just before they become ripe. Crushed cubeb pepper grains, processed into powder or pressed pellets, are only used internally.
Depending on the type and extent of the condition to be addressed, typically, naturopathy prescribes 2 to 4 grams of cubeb powder daily. Alternatively, chew 3-6 cubeb berries daily (or swallow the appropriate dose as tablets/pressed pellets).
In case of acute ailments an hourly intake of one fruit is recommended until improvement. Hildegard von Bingen recommended chewing 2 pieces of cubeb pepper several times a day to enhance mental strength.
Side Effects of Cubeb Pepper
To avoid negative side effects, avoid exceeding a maximum dose of 10 grams per day. Side effects may include headaches, anxiety, vomiting, urinary tract irritation, kidney and bladder pain, diarrhea and skin rashes.
Hildegard von Bingen also recommended the combination of cubeb pepper with Bertram, licorice, nutmeg, as well as violet wine, fennel tea, psyllium husk, or lavender wine and Hildegard cookies.
Cubeb pepper, Medicinal Plant of the Year 2016
Kubeben Pfeffer was named Medicinal Plant of the Year in 2016 by the German organization, NHV Theophrastus, which works to celebrate traditional German Herbal medicine.
As a spice in the kitchen
Cubeb pepper is not as spicey as black pepper. The two peppers are different in composition, for example black pepper contains piperidines absent in cubeb. A high proportion of up to 10% essential oils, mainly monoterpenes and sesquiterpenes, gives the cubeb its characteristic woody- bitter taste.
The dried Cubeb grains taste slightly bitter with a hint of citrus flavor. Since they contain very little piperidines, compared to black pepper they are not spicey.
Varied taste when cooking
As a spice, cubeb pepper appears most frequently in spice mixtures found in regions of Northern Africa, and Asian curries.
The bittersweet, menthol-like taste of cubeb pepper pairs with European cuisine for rice, vegetables, seafood, lamb, duck and stews, as well as certain desserts, such as ice cream and fruit sorbets, that benefit from an enhanced citrus freshness.
Cubeb Flavor Profile
The taste unfolds in three phases. First, cubeb peppers appear spicey, then a bitter note arises, which can be very intense. Towards the end, a long-lasting eucalyptus or camphor aroma develops.
Discover a new flavor with culinary experiments using the "Medicinal Plant of the Year 2016". Cubeb pepper also works as a wine additive.
Sign Up For Our Free Fasting eBook
Inspired by Hildegard for detoxification, weight loss & improved metabolism!